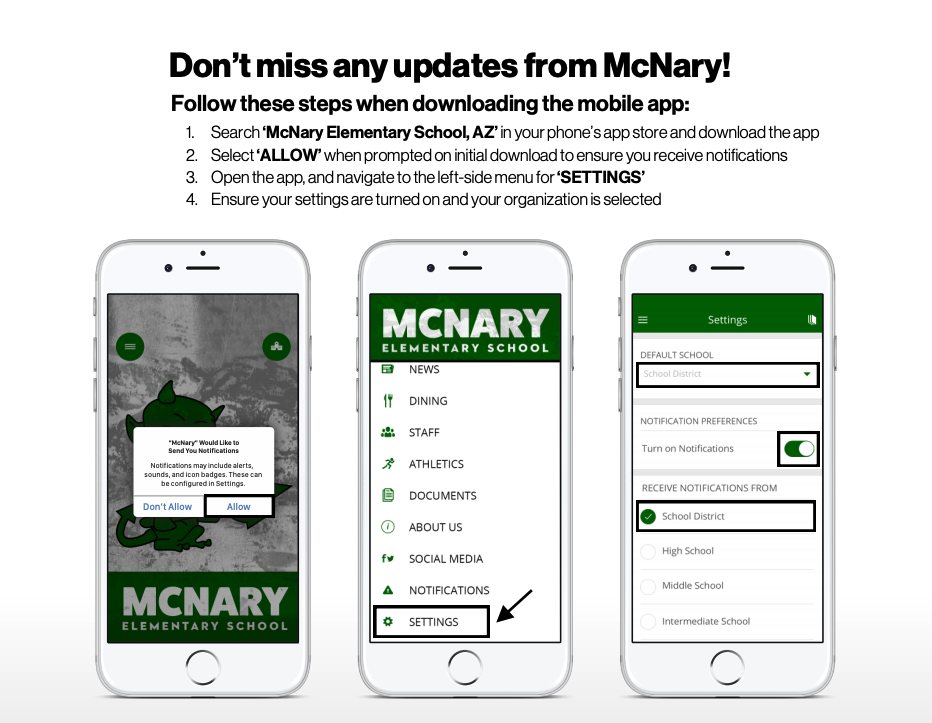 This is just a reminder that school is back in session. All students should be attending their Zoom meetings and completing work online. School is all online at this time. If you are having issues, please contact your child's teacher or call the school office. The end of the second quarter will be Friday, January 8. Teachers will be completing report cards after that date. Reports cards will be mailed Wednesday, January 15.

Christmas break will take place from Monday, December 21 through Friday, January 1. School will resume on Monday, January 4, 2021. At that time, we will still be working remotely. If anything should change, we will let you know. McNary School wishes all of our families and community a very Merry Christmas and a Happy New Year. Please stay safe and healthy.

Just a reminder, due to the lockdown, all students will work online all this week. NWEA testing will also take place online with all students taking the tests at home. Please stay safe and healthy.

McNary School would like remind everyone that NWEA benchmark testing starts tomorrow for all students. Get a good night's rest and do your best, students! Please call the office if you have any questions. We'll see you tomorrow.

Beginning Monday, December 14, NWEA Benchmark testing will take place for all students. All students will take the test remotely. Please check your child's Seesaw for a school announcement with the schedule and guidelines for how you can support your child.


Due to the continued shelter in place orders and lockdown for the tribe, McNary School will continue with remote learning for all students until January 4th. No students will be allowed into the school building for the duration of the lockdown. Lunches will be served each day beginning Tuesday, December 8th and continuing until Friday, December 18th, from 10:30 a.m. to 12:30 p.m. The school office will be open for emergencies only from 8:00 a.m. to 1:00 p.m. from Tuesday, December 8th, until Friday, December 18th. Pease contact the school if you need anything. Please stay safe and healthy.

Don't forget - Tomorrow, Wednesday, November 11, will be a school holiday. Take a break from your computer and enjoy the day! We'll see you back online on Thursday, November 12.

We've got exciting things coming soon - a new app and website! Stay tuned for more information.

Hope everyone is enjoying their summer! We're excited to see you all again when school starts.